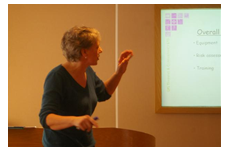 Designed and written by LPS for Manual Handling Facilitators.
An update for those staff who have attended more in-depth moving and handling training (such as the Manual Handling Facilitators course or a Key Trainers Course), and who wish to be updated on the latest developments in manual handling.
Participants are encouraged to share ideas and experiences and problems.
Read more about the course aims here.

Back to course list

Get directions to the training centre