Julia first became interested in manual handling when she trained as an orthopaedic nurse in Oxford before qualifying as a Registered General Nurse at Guy's Hospital in 1985. Continuing her nursing career at Guy's Hospital, she became the manual handling trainer for students, care assistants and qualified staff in her department.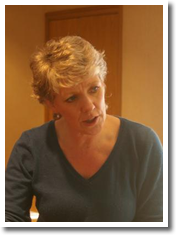 She increased her nursing experience working in acute trauma, general medicine and with the elderly, whilst continuing to update her moving and handling skills courses at the Disabled Living Foundation in London and facilitators courses in Leeds.
Julia then began to develop the moving and handling training and consultation business in Leeds with her physio husband. Julia's practical skill and experience and Simon's physiotherapy experience stood them in good stead to create complete courses in back care and manual handling. Julia is an Advanced Member of NBE.
Julia then gained the Adult Teaching Award NVQ Level 3 and became an active member of her local group of the National Back Exchange, serving as a committee member for a number of years, culminating in 4 years as Chair of Yorkshire group. She became of member of NBE's Equipment Review Panel and was the Equipment Review Editor for The Column for a number of years.
Following time serving on the organising committee of her local Back Exchange group in Yorkshire, Julia was elected as a Regional Officer on the National Executive Committee of National Back Exchange (NBE). In September 2010 Julia became the National Secretary of NBE and in September 2011 she was elected unopposed to the position of Chair of NBE Executive Committee. Julia completed this role in 2014 and Now sits on the NBE Professional Affairs Committee, which she Chairs. In this role, Julia has co-ordinated the update of the Skills for Health E-learning modules, a complete update of the Moving and handling section of the Core Skills Training Framework, and the Health Education England E-learning package .
She was one of the Co-Editors of the 6th Edition of the Handling of People series and was the author of the chapter on Core Hoisting Skills.
Julia co-delivers the 6-Day Facilitators course which was awarded 'Approval as a Professional Event' by the RCN. The course has been adapted for a number of institutions and organisations including for Sheffield and Huddersfield university healthcare lecturers and Bradford Special schools. She is currently the manual handling trainer for a number of private hospitals across the North.
Manual Handling advice and training has been given to a number of care homes for the elderly, homes for children and adults with special needs, hospices, schools and nurseries, as well as staff within PCTs, local councils, private agencies and mental health trusts across the North of England.
Julia is currently the consultant for a Case management company and undertakes individual risk assessments, writing reports and delivering bespoke training for clients with complex handling issues.
In her spare time, Julia enjoys yoga and has just recently discovered the excitement of growing her own vegetables. She spends occasional weekends with a historical re-enactment group demonstrating and talking about her real interest – cooking for the soldier and family of the Napoleonic period. Julia spent two weeks at the Paralympic Games in 2012 as a Gamesmaker, driving a golf buggy around the Olympic park supporting spectators with mobility problems. She has three children who have all left home and two rather mad but loveable dogs.