We specialise in the delivery of the highest-quality moving & handling training, education and consultancy to organisations and individuals throughout the UK.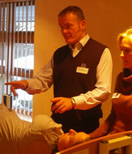 The LPS facilitation team are all qualified healthcare professionals, are Registered Members of the National Back Exchange (NBE) and experts in their fields.
Learn more about the LPS team and how LPS Training and Consultancy can support and protect your organisation.
Get our latest newsletter here.
Simon and Julia are both Registered Members of NBE and are
Professional Members of Backcare.

LPS has developed a number of moving and handling training courses which include appropriate elements of legislation, practical patient handling techniques appropriate to their workplace, risk assessment and ergonomics.
Moving and Handling courses are delivered at our venue or in-house, and specialities can be addressed to suit individual client needs. Professionally prepared and peer-reviewed publications are available as resources for organizations and individual participants.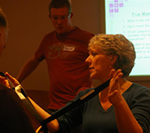 Our consultancy service includes work for organisations, health groups, care homes , NHS and Social Services. Work that LPS has undertaken includes: individual manual handling risk assessments for clients with complex needs, manual handling audits, advising on equipment provision, biomechanical analysis of complex tasks and advice on risk reduction measures. We provide moving & handling consultancy services throughout the UK and internationally.